What is Lean Six Sigma ? ILSSI Master Black Belt, Paul Allen,  explains !
What is Six Sigma ? What can a great Six Sigma Green Belt or Black Belt do for your company ?  Master Black Belt ILSSI coach and consultant, Paul Allen,  explains !
What is Lean Six Sigma ? ILSSI Director, Paul Allen, explains ! ( see full video below)
The Define Phase of DMAIC explained by Paul Allen.
Black Belt, Green Belt, Yellow Belt...what are they ?    Paul Allen explains !
If you think analysis of 'Big Data' is the answer, think again! If certain patterns exist in your data set it can be telling you lies.....here's why...
Master Black Belt, Mr Paul Allen explains the dangers of confounded data in the following video :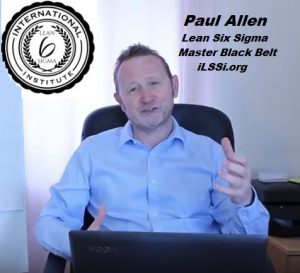 Paul Allen is a Six Sigma Master Blackbelt, is the founder of APL. He's a highly experienced process improvement specialist, working through Lean and Six Sigma methodologies. He specialises in providing clients with the skills and knowledge they need to bring variable un-predictable processes under control.
Paul has extensive experience delivering Six Sigma solutions in large multi-national organisations through to small, single site operations. He is based in South Wales and works all over the UK and Europe.
Part 1 of Video recording of ILSSI Yellow Belt training and certification class by ILSSI Partner Lean Six Sigma Training Ltd with John Dennis and Nasim Nabiyouni.
Professor Bob Emiliani addresses questions which include 'Is it appropriate for the Lean Community to be analytical and critical of current supply-chain problems during the Covid-19 pandemic ?' , 'Will traditional corporate management behaviour change in a post-Covid19 world?' and 'Does Lean need to reinvent itself in order to remain relevant and useful in a post-Covid19 world'. With questions posed from a selected group of world-class managers, trainers and consultants including Chris Alcock, Kola Olutimehin, Salman Mishari, Aleksander Sidorec, Chris Pettinghill, Miguel Araujo, Naseem Nabiyouni, Jimmy Forster, Fabio D'Agostino and facilitated by John Dennis.  April 10th 2020