International Lean Six Sigma Conference
January 13 - 17  2020 
£395 per day.
Package Deal :  £790  for 3 days  ( Speakers and Workshops  +  tour of Lean Manufacturing Facility )
Group Discounts available :  conference@iLSSi.org
50%-OFF for Students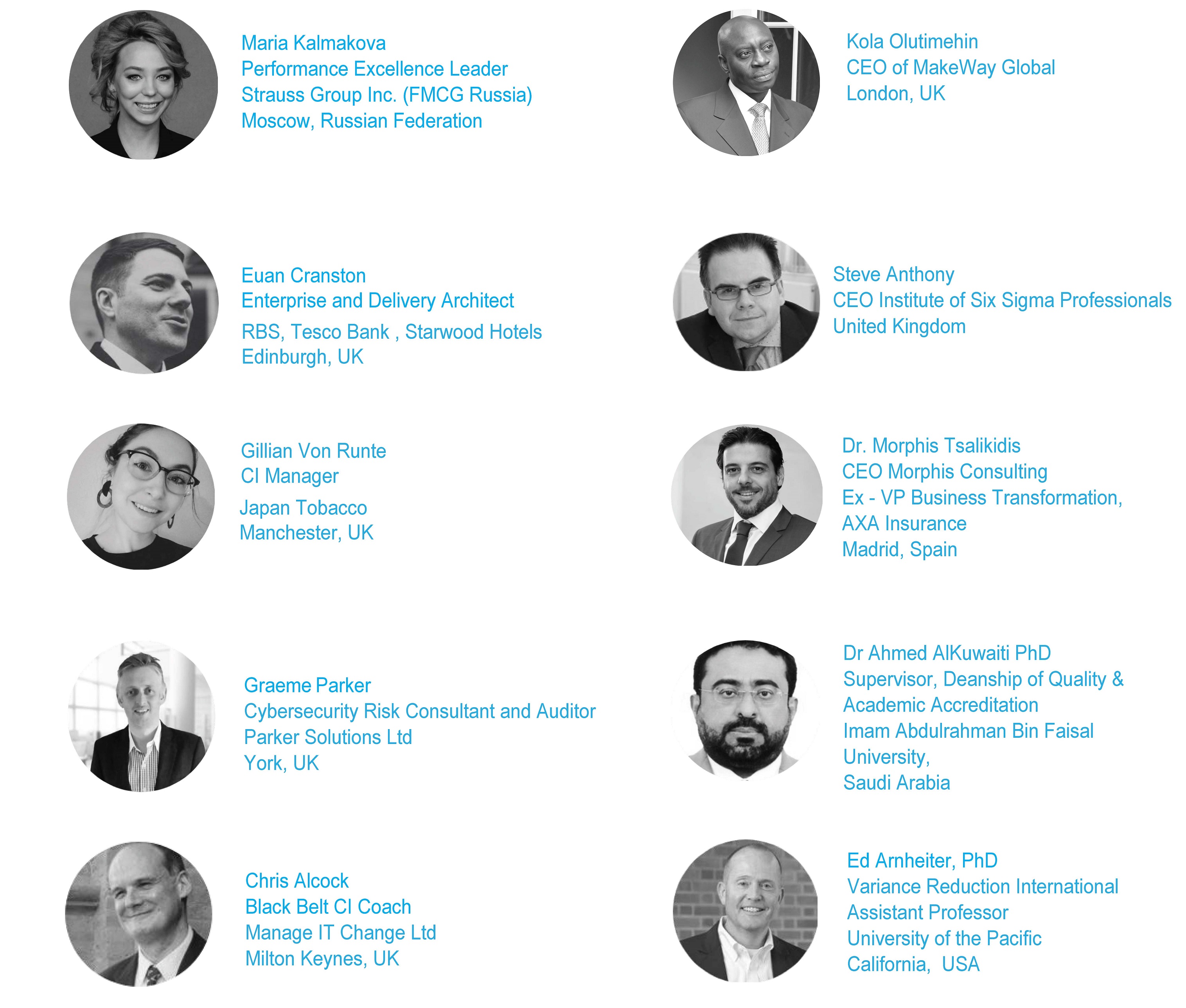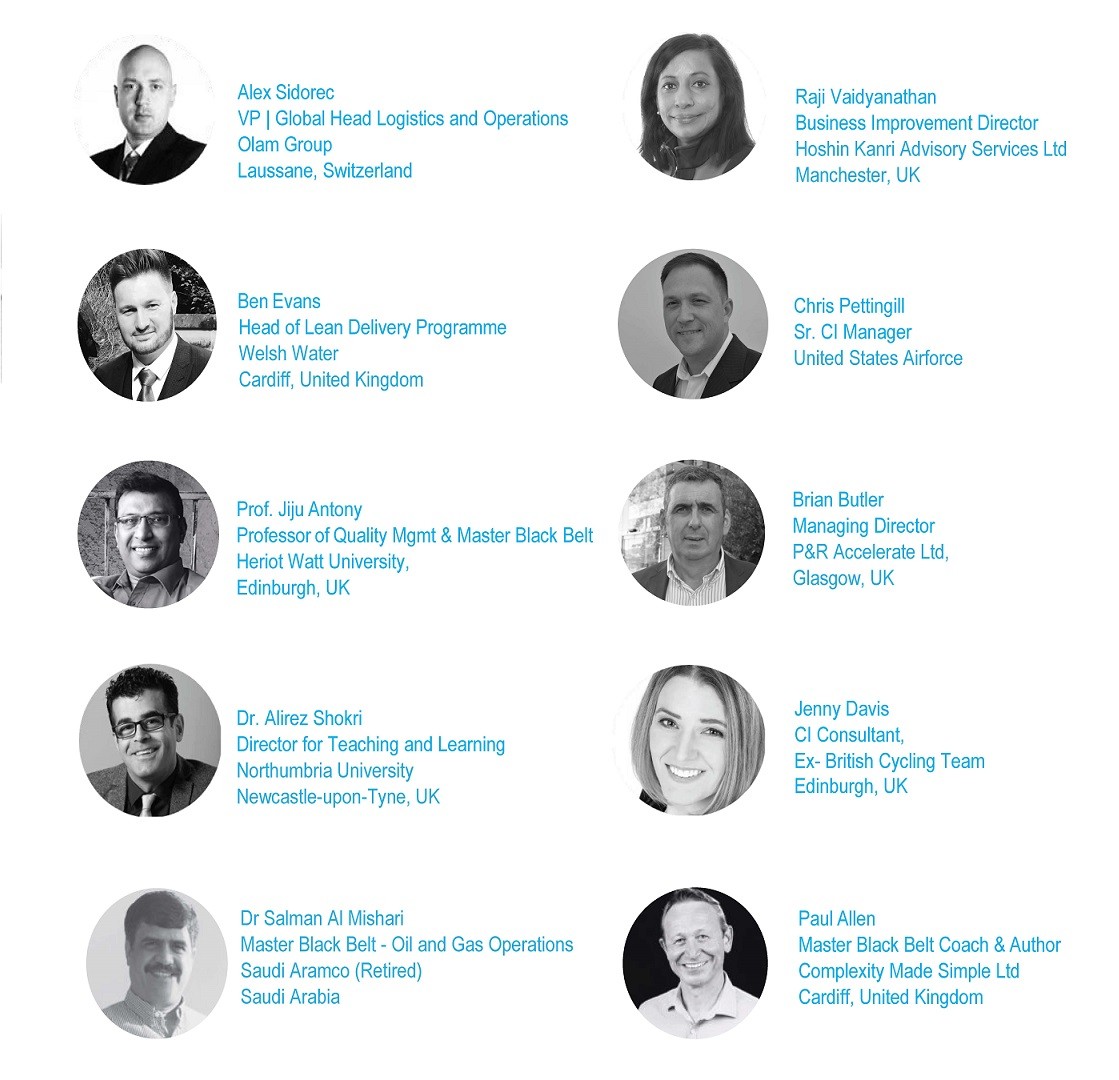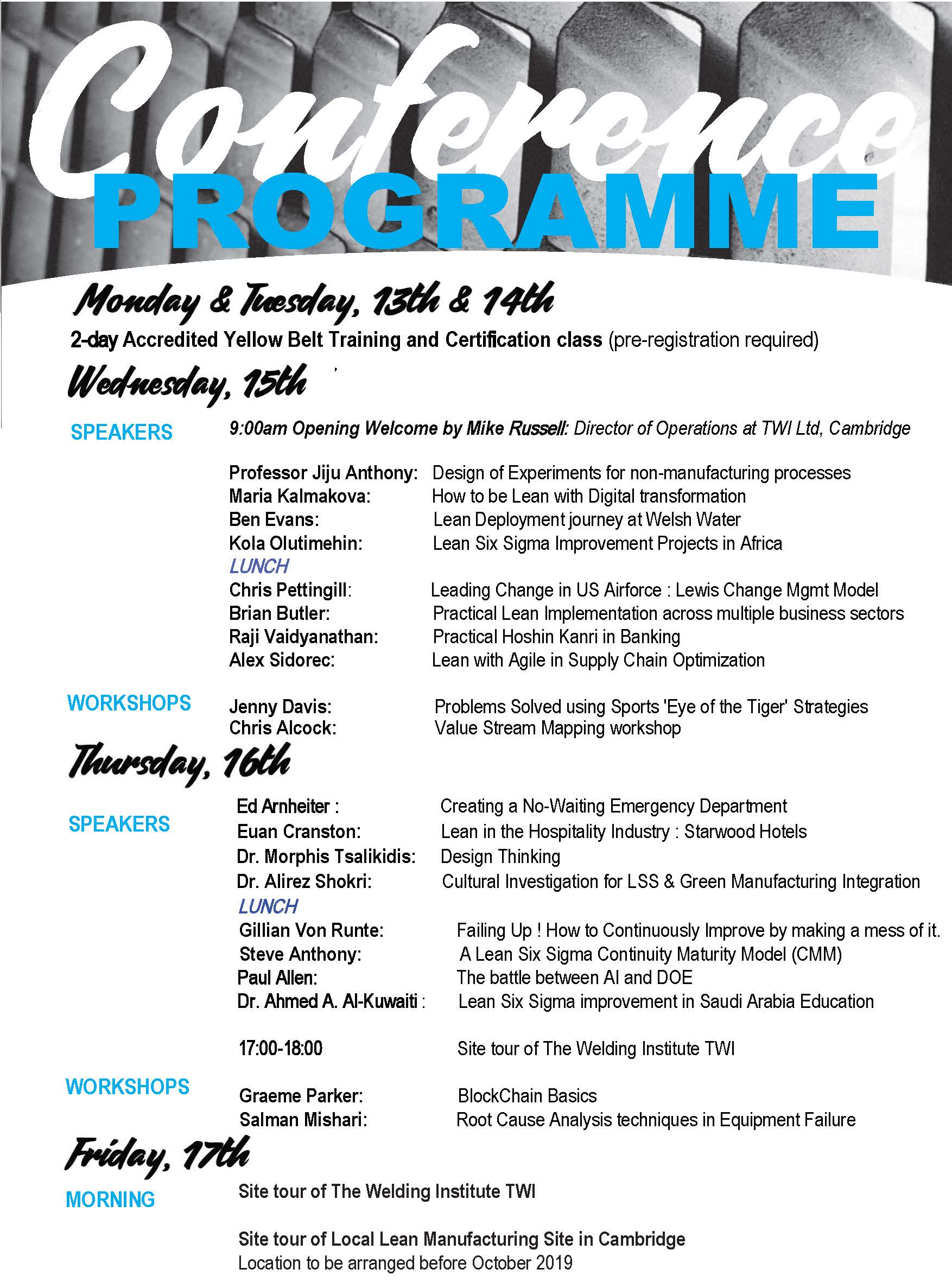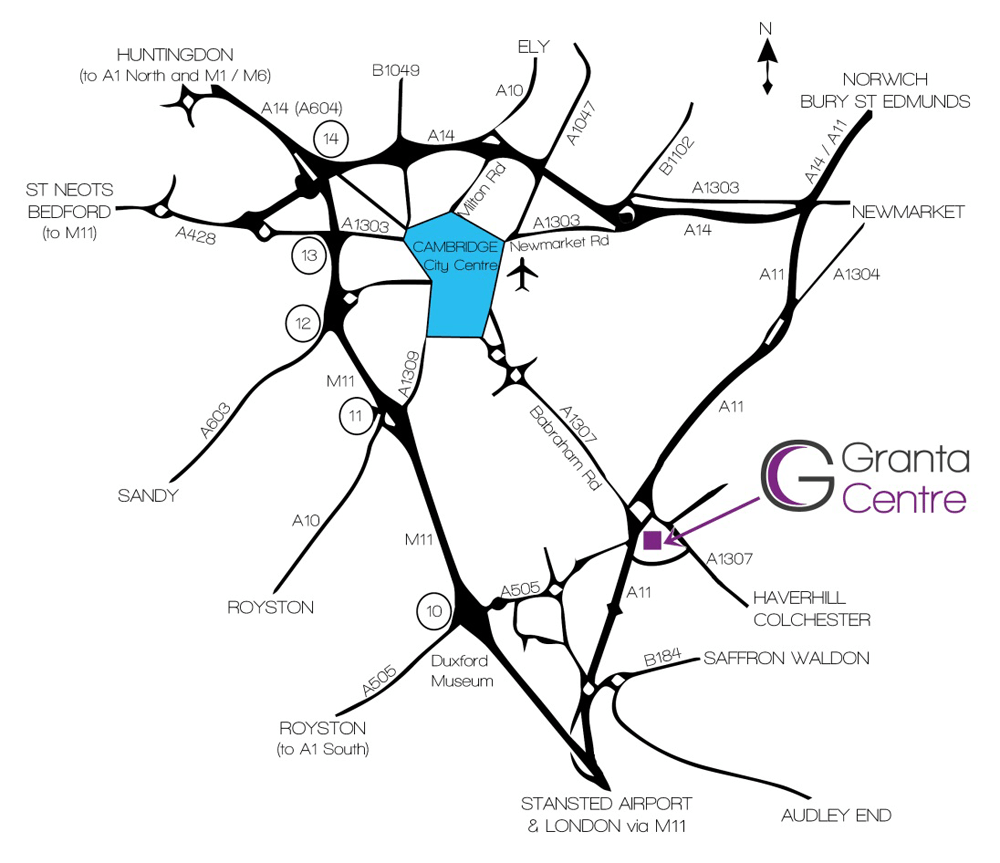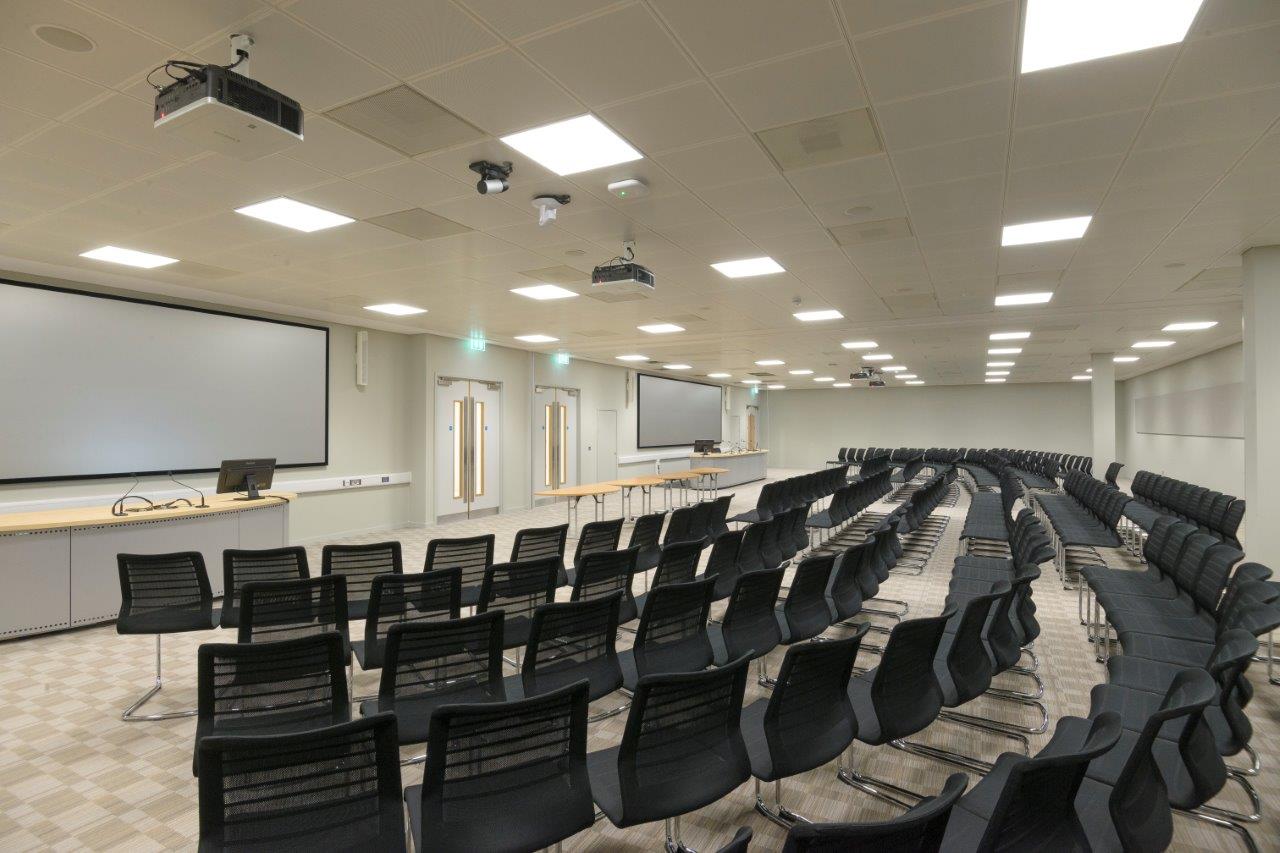 Get our official event app
For Blackberry or Windows Phone, 
Click here
International Lean Six Sigma Conference 2020
Process Improvement and Quality professionals come together this January 13th - 17th 2020 in Cambridge
to network, learn from the most experienced practitioners in Lean Six Sigma and exchange ideas.
The International Lean Six Sigma
Institute (ILSSI) will host the International Lean Six Sigma
Conference in Cambridge UK
January 2020.
Internationally recognized speakers will
address the crowd at this leading event for
process improvement professionals. This 2020
event will be the most comprehensive Lean Six
Sigma conference in the UK in 2020
The Lean Six Sigma conference attracts international experts,
representatives from retail, manufacturing, hospitality,
government, healthcare and education.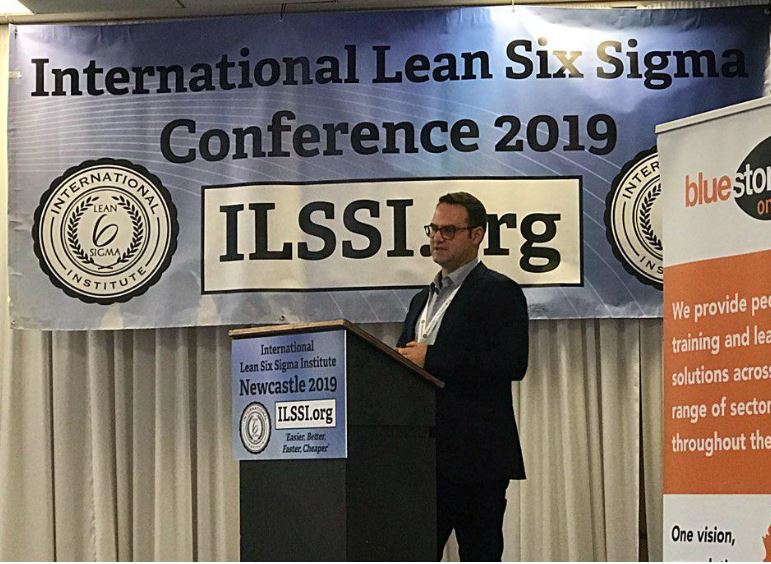 Marc LeCoultre speaks on Machine Learning at 2019 ILSSI Conference
Monday & Tuesday, 13th & 14st January 2020
CSSC Accredited Yellow Belt Training and Certification class : John Dennis PMP, Master Black Belt trainer.
Wednesday, 15th January 2020
SPEAKERS
Professor Jiju Anthony:   Design of Experiments for non-manufacturing processes
Maria Kalmakova:  How to be Lean with Digital transformation   
Ben Evans:    Lean Deployment journey at Welsh Water 
Kola Olutimehin:  Lean Six Sigma Improvement Projects in Africa
Chris Pettingill:   Leading Change in US Airforce : Lewis Change Mgmt Model
Brian Butler:   Practical Lean Implementation across multiple business sectors   
Raji Vaidyanathan:   Practical Hoshin Kanri in Banking       
Alex Sidorec:     Lean with Agile in Supply Chain Optimization  
Jenny Davis:  Problems Solved using Sports 'Eye of the Tiger' Strategies
Chris Alcock:   Value Stream Mapping Workshop
Thursday, 16th January 2020
SPEAKERS
Ed Arnheiter : Creating a No-Waiting Emergency Department            
Euan Cranston:   Lean in the Hospitality Industry : Starwood Hotels   Dr. Morphis Tsalikidis:   Design Thinking
Dr. Alirez Shokri:    Cultural Investigation for LSS & Green Manufacturing Integration
 Gillian Von Runte:    Failing Up ! How to Continuously Improve by making a mess of it.
 Steve Anthony:  A Lean Six Sigma Continuity Maturity Model (CMM)
Paul Allen: The battle between AI and DOE
Graeme Parker:    BlockChain Basics 
Salman Mishari:   Root Cause Analysis techniques in Equipment Failure
Friday, 17th
Site Tour of Local Lean Manufacturing Site in Cambridge
Location to be arranged before OCTOBER 2019