Jersey Business, Channel Islands 2022
Jersey Business introduced a new practical business improvement programme supported by the Government of Jersey in 2018 to inspire businesses, particularly smaller businesses, to implement sustainable change and improvement to operational processes. Over 50 companies have participated to date. The organisation has 3 strategic priorities to support the business community following the Covid-19 pandemic as well as the impact of Brexit:
• Supporting entrepreneurial activity to build successful & productive businesses
• Developing more productive, resilient & sustainable industries
• Sharing knowledge and best practice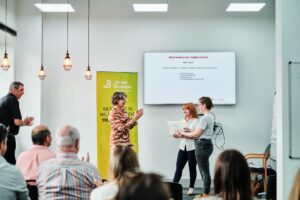 In 2022 the programme gained approval from the ILSSI as a certified Lean Six Sigma qualification assessed through practical and tangible project improvements attained within participating companies.
In July 2022 Pauline Ramsay and Oriane Faucher of "Granite Le Pelley" became the first recipients of the new ILSSI Lean Six Sigma Green Belt award in Jersey.
Oriane developed a new set of processes for issuing drawings and documents digitally on the Islands' flagship Horizon project in St Helier where she worked with all employees on site to eliminate paperwork and speed up the process of drawings and data transfer to free up valuable resource time for increased capacity.
Pauline designed and implemented a new Excel based workbook system for the management of registers and revisions taking the time consumed form a number of days down to "1 hour per week" whilst also reducing errors and duplication. In addition to completing the Jersey Business Programme, Pauline studied Excel spreadsheet programming to create her own bespoke dashboard which is now used across the company.
Together Pauline and Oriane measured a cost reduction in excess of £30k from their projects but this is only the tip of the iceberg as they are now working on new initiatives to enhance productivity throughout the business which has many other benefits such as improved morale, improved customer service and environmental footprint reduction. They are now working on enhancing the digital technology further to improve HR systems with the automation of time sheets, holiday requests, expenses etc. working across the company to take non value add out of processes, making peoples jobs better, lead times faster, costs lower and morale higher.